PISCO is a long-term program designed to understand the California Current Large Marine Ecosystem. Our program is built from the general premise that the scientific community must conduct innovative and highly collaborative research to help society make informed decisions about managing coastal ecosystems.
Integrate studies of changes in the ocean environment through ecosystem monitoring and experiments
Assess and understand the causes and consequences of changes in the ocean, such as hypoxia and ocean acidification, changing climate, and altered human uses of the sea such as marine protected areas
Manage data in standardized ways for analysis and transformation into data products
Work closely with management agencies, policy makers, non-profit organizations and others to effectively inform decision making
Train and mentor students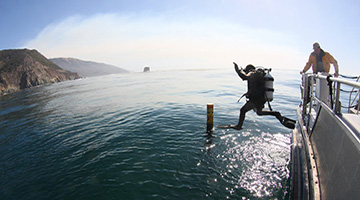 The core of PISCO research is a long-term sampling program integrated with studies of ocean climate with population and community experimental studies in the California Current Large Marine Ecosystem. Within the coastal ocean, we focus on kelp forests and the rocky intertidal which have proven to be model communities for both experimental and theoretical studies. Researchers coordinate studies over a range of spatial scales to examine the causes and consequences of ecological changes relevant to marine populations and conservation.  Read more....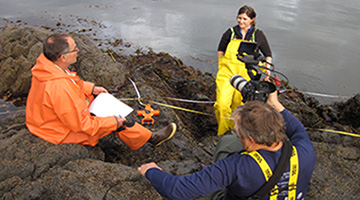 PISCO's long-term program sets the foundation for policy-relevant experiments and analyses to address conservation science questions, such as effects of marine protected areas, biodiversity conservation, management of economically-important species, and impacts of changing climate, hypoxia, and ocean acidification. Cornerstones of this work are partnerships, including with state and federal agencies, non-profit organizations, industry, and other academic centers.  We communicate our findings through briefings, presentations, publications and online resources.  Read more…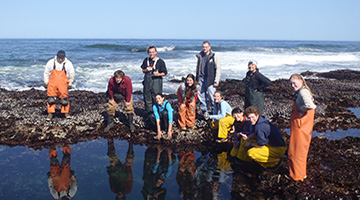 Undergraduate, graduate, post-graduates, and professionals involved in our programs receive training in interdisciplinary research and monitoring, experience with management, policy, and science communication, and career development. Our alumni continue to successfully work in academia, government, non-profit organizations, and industry. PISCO investigators teach courses on interdisciplinary topics, and we organize trainings with different organizations for monitoring the rocky intertidal and kelp forests. Read more...